Terms & Conditions
Customer Satisfaction is at the highest priority for Team Rooter, its plumbers and technicians. 
Our 100% satisfaction guarantee is an all encompassing and straight forward.  If for any reason you are not satisfied with the work performed, we will redo the job or refund amount paid for up to $250.   
All of our major sewer installations come with a 10 – 25 year warranty.  If for any reason (excludes natural disasters, earthquakes or fires) there is a problem with the labor or material of our installation, Team Rooter will correct the problem free of charge within the warranty period.
It drains or you don't pay guarantee.   If Team Rooter can not get you line to drain, we will not charge you.   (excludes hydro-jetting area / back yard drains – these drains are not maintained and a $200 service fee is assessed if we can not clear it with a hydro jetter)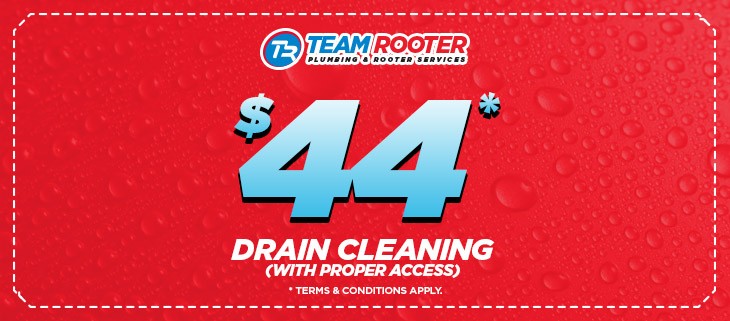 Coupon Terms and Conditions
First Time Clients Only

The $44 price is for "per clog" and applies to residential plumbing calls only (Town-homes, Condos are considered commercial)

If a toilet has to be removed, it will be at an additional charge.

$44 price is honored 7 AM – 7 PM, 7 Days a week excluding major holidays

This rate is for cabling a line. If we can't clear your blockage by cabling method we will not charge you.

Clogs or blockages must have a clean out access.

All repairs must to be on the 1st or 2nd floor

Yard Drains are extra.
Team Rooter Service Request
Please fill out the form below and one of our representatives will give you a call back between 8 am to 9pm.
For emergency or immediate service requests please call (800)818-2397 24hours a day, 7 days a week.