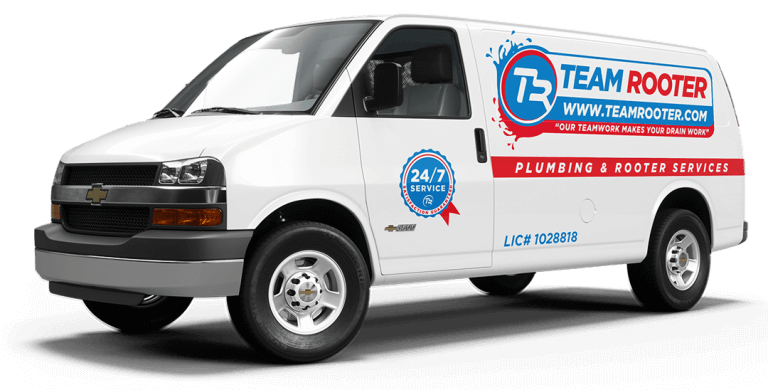 Plumbing Problems?
Call The Team!
We Are Available 24 Hours a Day
7 Days a Week!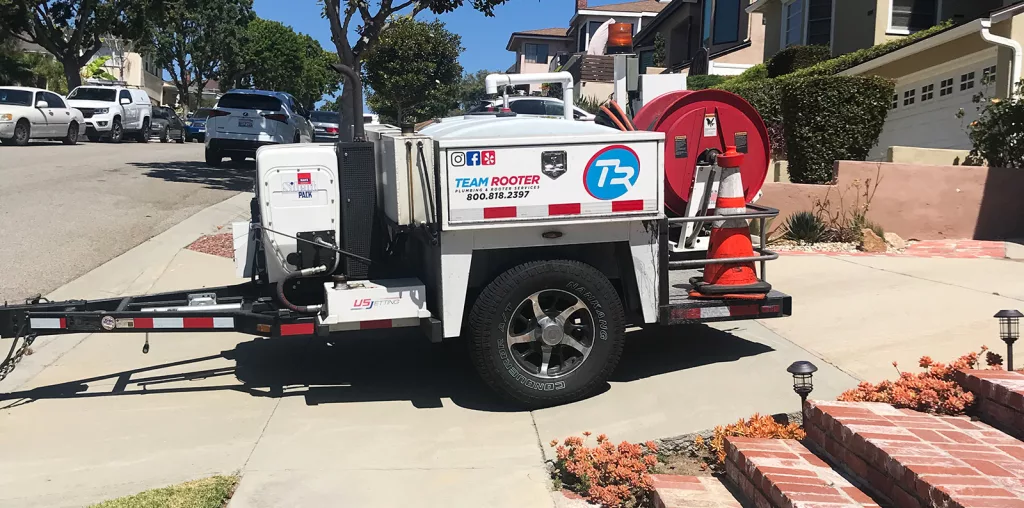 Hydrojetting 4018 Unit
The 4018 unit is Team Rooter's most utilized jetting machine. For over twenty years, this advanced drain cleaning machine has been the industry leader. The 4018 hydrojetting model uses different nozzle heads to tackle the tougher job. This unit can work in pipes from 3″ – 6″ with an outside access only.  The 4018 is perfect for all purpose cleaning, but also has the power to tackle grease, roots, residential and industrial lines.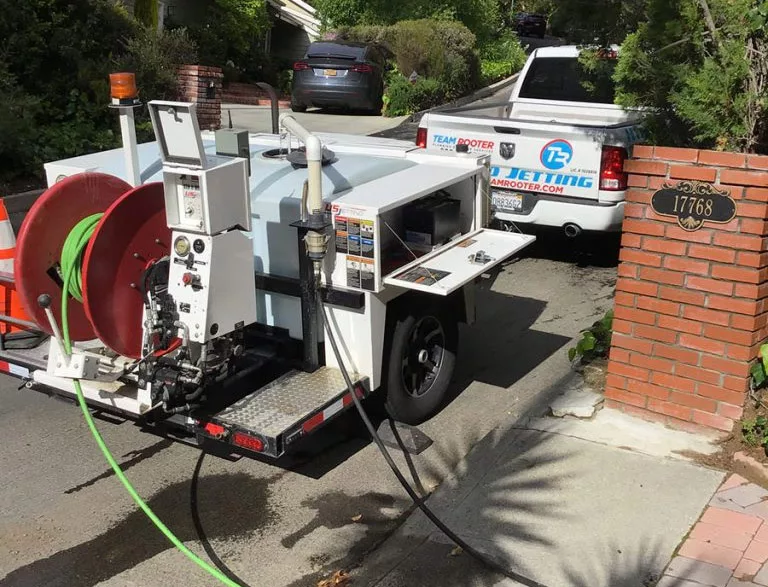 Hydro Jetting Service
What is Hydrojetting?
Hydro jetting is a powerful and effective method for cleaning and clearing out clogged pipes and sewer lines. At Team Rooter Plumbing, we offer professional hydro jetting services to help keep your plumbing system running smoothly.
Using high-pressure water jets, our team can effectively remove blockages, debris, and even tree roots from your pipes. This advanced method is more thorough and efficient than traditional pipe cleaning techniques, and can help prevent future clogs and costly plumbing issues.
Our team is equipped with state-of-the-art hydro jetting equipment and has the expertise to handle any hydro jetting job, big or small. We pride ourselves on providing fast, reliable service and delivering excellent results for our customers.
If you're experiencing a clogged drain or sewer line, don't hesitate to contact Team Rooter Plumbing for professional hydro jetting services. We'll get your pipes flowing smoothly again in no time.
Berge Shakelian
January 26, 2023
Our kitchen sink was clogged over the weekend. Mike Rangel was prompt, courteous and efficient. Would definitely recommend his service
Chris Lopez
January 17, 2023
Danny C. was very friendly, knowledgeable and explained the problem with the leaking faucet. He was thorough and kept everything clean and neat. I would highly recommend this company.
Jiang Chen
January 15, 2023
Team Rooter is an honest company to do business! They take care the job warranty without a question. Three years ago they repaired my sewer line with trenchless sewer pipe replacement. Last weekend the sewer backup to bathroom again. Called their customer service, unfortunately all the serviceman are out at the time, I got a local plumber came right way to clean out the blockage. Next day called Team Rooter reported the problem, a supervisor discuss the situation with me by phone and offered sending a technician to site to investigate. Mr. James Craig came with Cam Video the next day found tree roots break into pipe through a coupler. He immediately authorized a repair job: to break the concrete, dig 3 ft down to reach and replace the broken pipe coupler. Two men crew showed up next day completed the job which could value of thousands dollars but all under warranty. A special thanks to Mr. James Craig, his is knowledgeable and friendly. His kindly smile really comforts my anxiety. I would highly recommend Team Rooter for any plumber problem because rest assure they will come back to fulfill their promise.
Allyson Tayson
January 9, 2023
Team Rooter was very professional, nice, clean and on time. They were able to find and clear out the tree branches that were growing into our pipes and up through our toilet. I would use them again if necessary
David Castro
January 3, 2023
Kitchen sink clean out
Cheryl Metz
January 3, 2023
Ricardo was extremely knowledgeable and skilled. He was respectful and listened carefully to questions and concerns. He answered questions thoroughly and explained safety guidelines. The price for work was reasonable. There was no concern about being tricked or cheated. Quality of work is thorough and highly professional. This company provided me with peace of mind for so many different reasons. Stuff happens. I will call them first in the future. So glad I found them.
We had a slow drain issue with our kitchen sink. Had some difficulties and complication when trying to fix it. Hector came in less than one hr after the call, and quickly point out the issue and fixed everything in a clean, fast and professional manner. Price was very reasonable. Would highly recommend.
Wen Shiue
January 2, 2023
Great service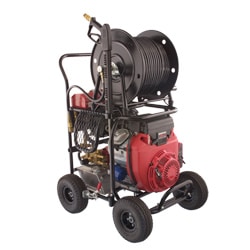 GO 3500 Series
Gorlitz™ Model GO 3500 Series is one of our most popular and versatile large-sized water jetters. Available only as a gas model, it is strictly for outdoor use. Versatile and functional, this units are built with a simple design but offering a sturdy frame, front handle to assist during lifting, battery box, mounting rings for our supplied trigger gun, hose reel and two 8″ pneumatic tires to facilitate transportation to the job site. The mounted hose reel has the capacity to store over 300 feet of 3/8″ diameter jetter hose and is fitted with a stainless steel swivel, hose guards and adjustable reel break. The quick disconnect fittings at the pump, reel, hose and trigger gun simplify all connections. These models are powered by a dependable electric and manual start Honda GX630 engine and three piston ceramic plunger pump generating 3500 psi of pressure at 5.5 GPM to clear the most difficult blockages. Also included is the hydro-pulse feature, when used can easily blast through tough stoppages clearing sludge, grease, residues or open frozen pipes.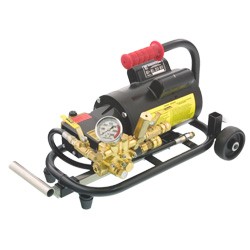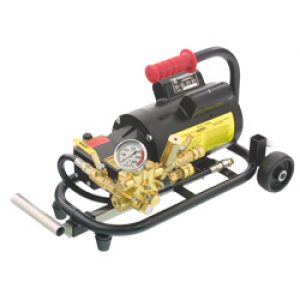 Mini Jetter – Kitchen Lines
Gorlitz Model GO 1500A Series are well recognized due to their compactness, simplicity, portability, and limited maintenance. It is another important tool for businesses offering drain cleaning services. The functional frame construction is provided with a carrying handle, reel accessory tube, retractable pull handle and phenol wheels for easy transportation to the job site and therefore an important tool in  All models are equipped with a custom build dual capacitor 2HP electric motor drawing 19.8 amps at full load. The duplex ceramic plunger pump equipped with dual pulsation will generate over 1500 psi at 2.1 GPH and make it the most desired small jetter in the industry to clear tough stoppages or open frozen pipes.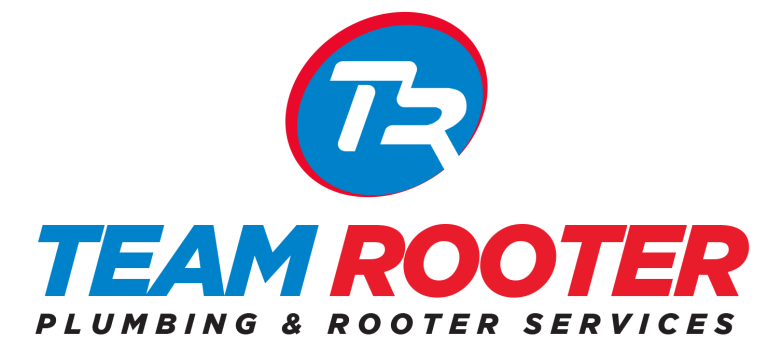 24/7 Emergency Services
Same day service usually within 60 minutes
Set pricing for common rooter and plumbing services
All technicians use Ipads for instant invoicing with pictures and videos.
We are bonded, insured, licensed and have workers compensation insurance
Our plumbers and techs are screened and background checked most with 10+ years of experience
Broad coverage area
Member of Google Guarantee Network
Bilingual Plumbers
100% Satisfaction Guaranteed
Industry Leading Warranties
Team Rooter Service Areas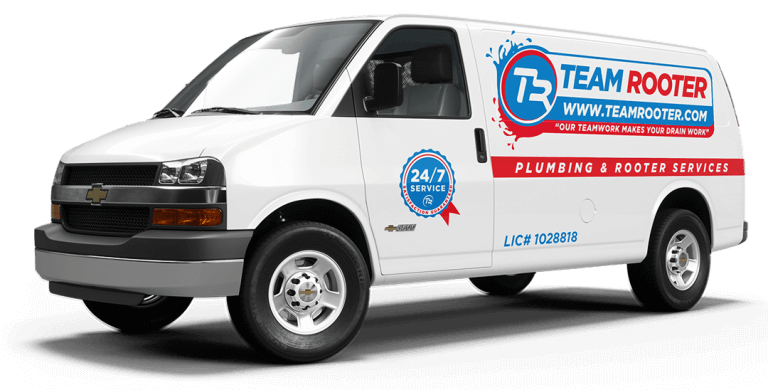 Plumbing Problems?
Call The Team!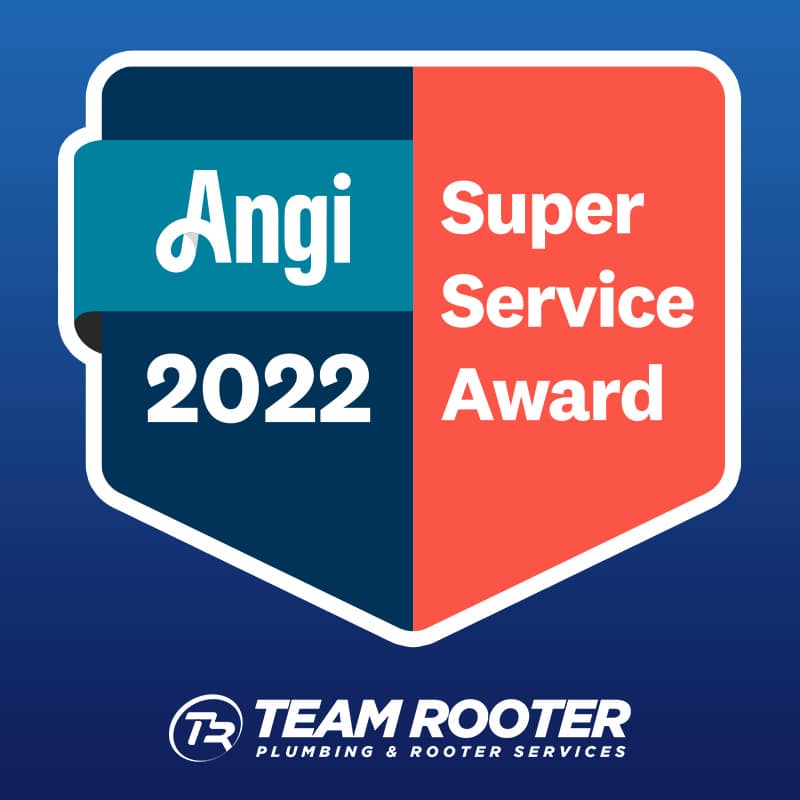 Our Teamwork Makes Your Drain Work®
From clogged drains, and inspection by high-tech cameras, cleanout of overflow, drain cleaning, sewer line repair, sewer lateral replacement, copper re-piping, hydrojetting, and a reliable, around the clock emergency service, we are ready to address a wide variety of plumbing troubles and fix them as quickly and as efficiently as possible.
Our team takes pride in providing the best for our customers. We believe in treating every customer like a member of our own closely knit team; like friends and neighbors.
With this motto Team Rooter has become a recognizable staple in the plumbing industry providing over 20 years of technician experience to tackle any rooter or plumbing problem while forming lasting relationships with our past and present clients.