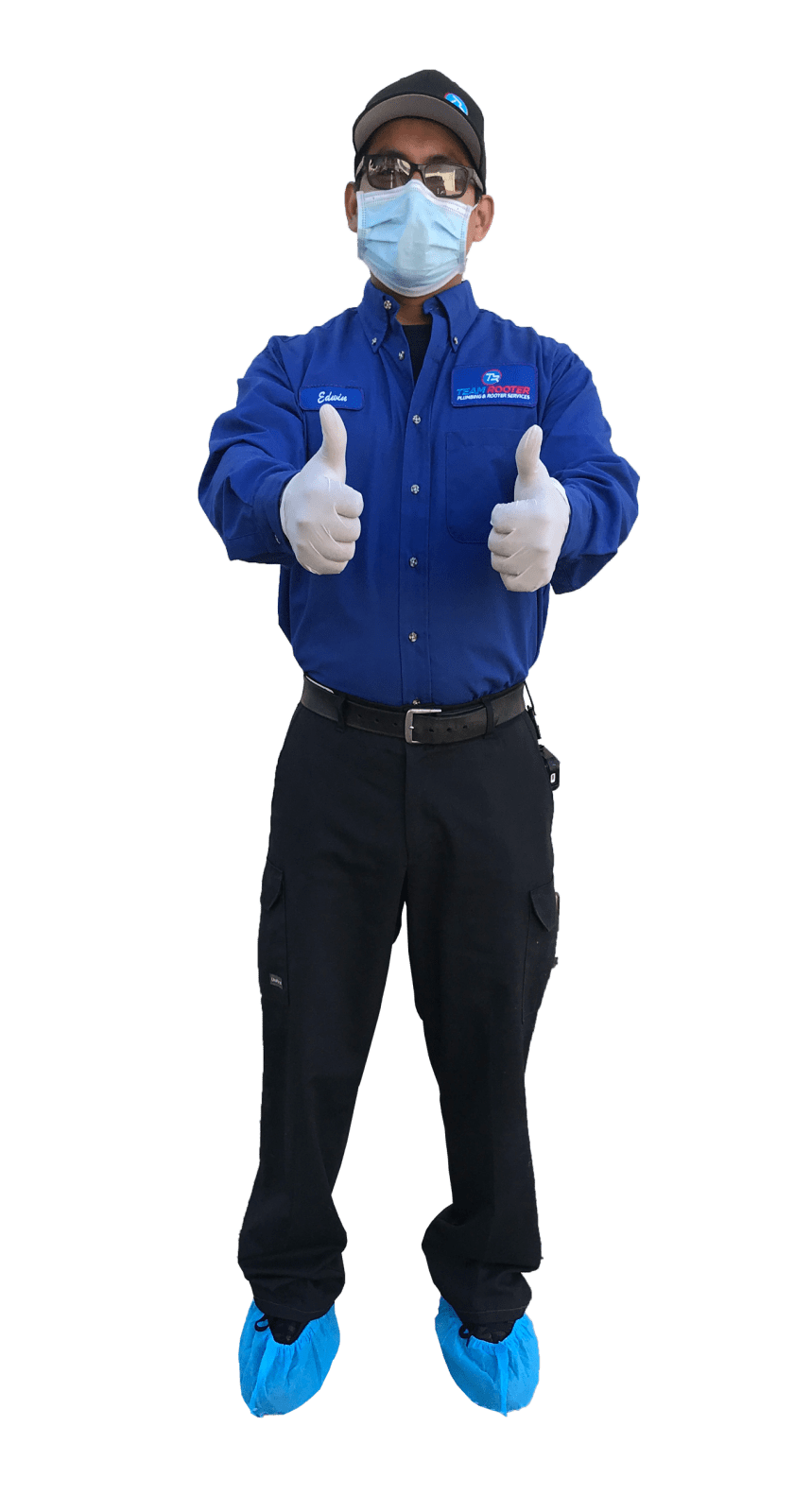 COVID-19: What We Are Doing
The health and safety of our clients and staff is our highest priority during this time. We will continue acting with prudence in our day-to-day operation with the preventative safety measures set forth by the U.S. Federal Government, Centers for Disease Control (CDC) and other health agencies, including:

Paperless and touch-less work authorizations / Invoices / and payment processing.
Masks, gloves and booties mandatory at every appointment.
Most clean out accesses are outside of home, we can clear most back ups through there and eliminate the need to come into your home.
Sanitizing tools, equipment and vehicle interior after every job.
Cleaning hands often with soap and warm water (at least 20 seconds)
Using an alcohol-based hand sanitizer when soap and water are not available.
Staying 6 feet away from people.
Covering cough or sneeze with a tissue, then throwing tissue in the trash.
Staying home when sick.
Our Teamwork Makes Your Drain Work®
From clogged drains, and inspection by high-tech cameras, cleanout of overflow, drain cleaning, sewer line repair, sewer lateral replacement, copper re-piping, hydrojetting, and a reliable, around the clock emergency service, we are ready to address a wide variety of plumbing troubles and fix them as quickly and as efficiently as possible.
Our team takes pride in providing the best for our customers.  We believe in treating every customer like a member of our own closely knit team; like friends and neighbors.  
With this motto Team Rooter has become a recognizable staple in the plumbing industry providing over 20 years of technician experience to tackle any rooter or plumbing problem while forming lasting relationships with our past and present clients.
We are Licensed & Insured
Our technicians go through extensive in-house and "in-the-field" training, using the latest technology and techniques to combat rooter and plumbing issues.
We utilize state of the art technology to get the job done accurately and efficiently.  Team Rooter's extensive background in all plumbing services, especially drain and sewer cleaning, will provide our customers with a top notch service and concrete, solutions.  Our trust in our team and the quality of the work they do has given us the confidence to stand behind the job we do by offering 100% customer satisfaction guarantee.  
Our services include sewer line repair, drain cleaning, kitchen and bathroom plumbing, remodeling and installation for your home and much more.  We offer residential and commercial services throughout the Los Angeles, Ventura, South Bay, and Orange County. 
Call Team Rooter at 800-818-2397 today for an estimate or an appointment.
Thank you,
Team Rooter, Inc.